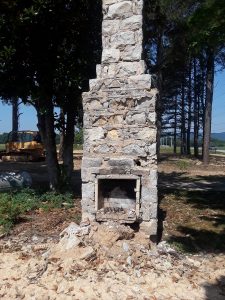 Every person you meet fights a hard battle. The smiling friend with whom you just had lunch faces fiery trials that would break your heart if you knew them all. But God's Word enables us to come through the fire. A heart nourished on words of truth acquires an asbestos-like quality, which fire may purify but not destroy. Not too far from Big Cove, Alabama stands a solitary reminder that some things outlast fire and storm. The house is gone without a trace, but its hearth and chimney stand tall, straight as the day they were made. They show us that building materials may be combustible or non-combustible, flammable or fireproof, perishable or imperishable. When fire comes, all is consumed but the permanent things, the things made of lasting stuff. This durable chimney reminds us to build our lives of materials which remain certain and solid despite the flames.
For no other foundation can anyone lay than that which is laid, which is Jesus Christ. Now if anyone builds on this foundation with gold, silver, precious stones, wood, hay, straw, each one's work will become clear; for the Day will declare it, because it will be revealed by fire; and the fire will test each one's work, of what sort it is. If anyone's work which he has built on it endures, he will receive a reward. If anyone's work is burned, he will suffer loss; but he himself will be saved, yet so as through fire. (1 Cor. 3:11-15)
Jesus says the wise man hears His words and does them. Such a person builds his house on the rock (Matt. 7:24), and that house proves to be stormproof! In the same way, we make choices every day that are filling our lives, building our lives out of materials from one category or the other. What are you importing into your heart to prepare for the storms sure to come? The time is now—let God's Word find its intended home in your heart. It is permanent. "Heaven and earth will pass away, but My words will by no means pass away" (Matt. 24:35). It is the anvil that wears out the hammers, and its promises will come true when the skeptics and critics and all their vaunted theories lie quiet.
"The entirety of Your word is truth, and every one of Your righteous judgments endures forever." Psalm 119:160